News
---
How to Establish a Successful PMO (SOE#1)
Reinventing the Project Management Office
Organizations never discuss the possibility of retiring their HR, Finance or Internal Audit departments, yet PMOs are always scrutinized and in some cases considered un-necessary overhead. Some statistics show that 75% of PMOs fold down within 4 years of initial setup. There are multiple reasons behind PMO failure, which are dissected within the seminar to gain some lessons that are valuable towards establishing an enduring PMO. Primarily, PMOs cannot be established using a ONE-SIZE-FITS-ALL approach, as there are multiple types of PMOs, each serving a different purposes. Hence the most important question is why do we need a PMO?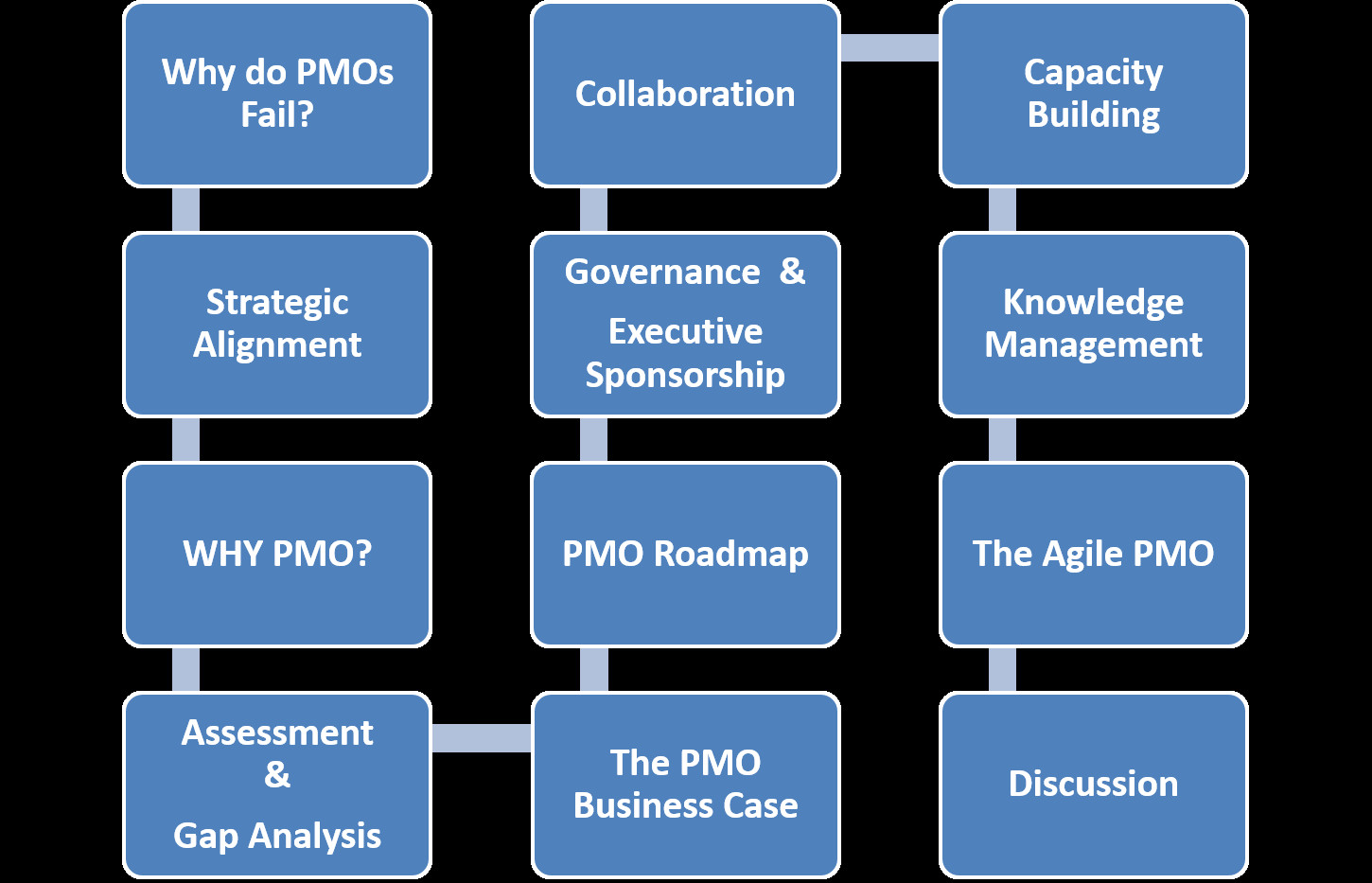 All PMOs should be aligned to specific strategic organizational objectives, and should not be established without proper initiation process. PMO initiation can be facilitated by external consultants, but can only be owned by the top authority of the organization, especially if the purpose is to realize the organizational or national vision. Initiation is often started by conducting a thorough assessment, resulting in a Gap Analysis report.
Following, the PMO Business Case is developed, answering all types of questions, and includes components such as: PMO Road-map, Governance & Executive Sponsorship, Organizational Collaboration Approach, Capacity Building, Knowledge Management and other vital ingredients. Since change is inevitable, and PMOs are required to help implement change, nowadays PMO cannot afford but to be quite Agile in nature.
Types of PMO
Why we need a PMO defines the role, and consequently the type of PMO, whether permanent or temporary: A Strategic, Corporate, Departmental or even Center of Excellence are all permanent organizations, whereas Transformation Change Management Office, Program Management Office and Project Control Office are temporary. Often programs establish organizations to sustain the benefit, but then their mission would be over, though long, and they also fold down like projects do.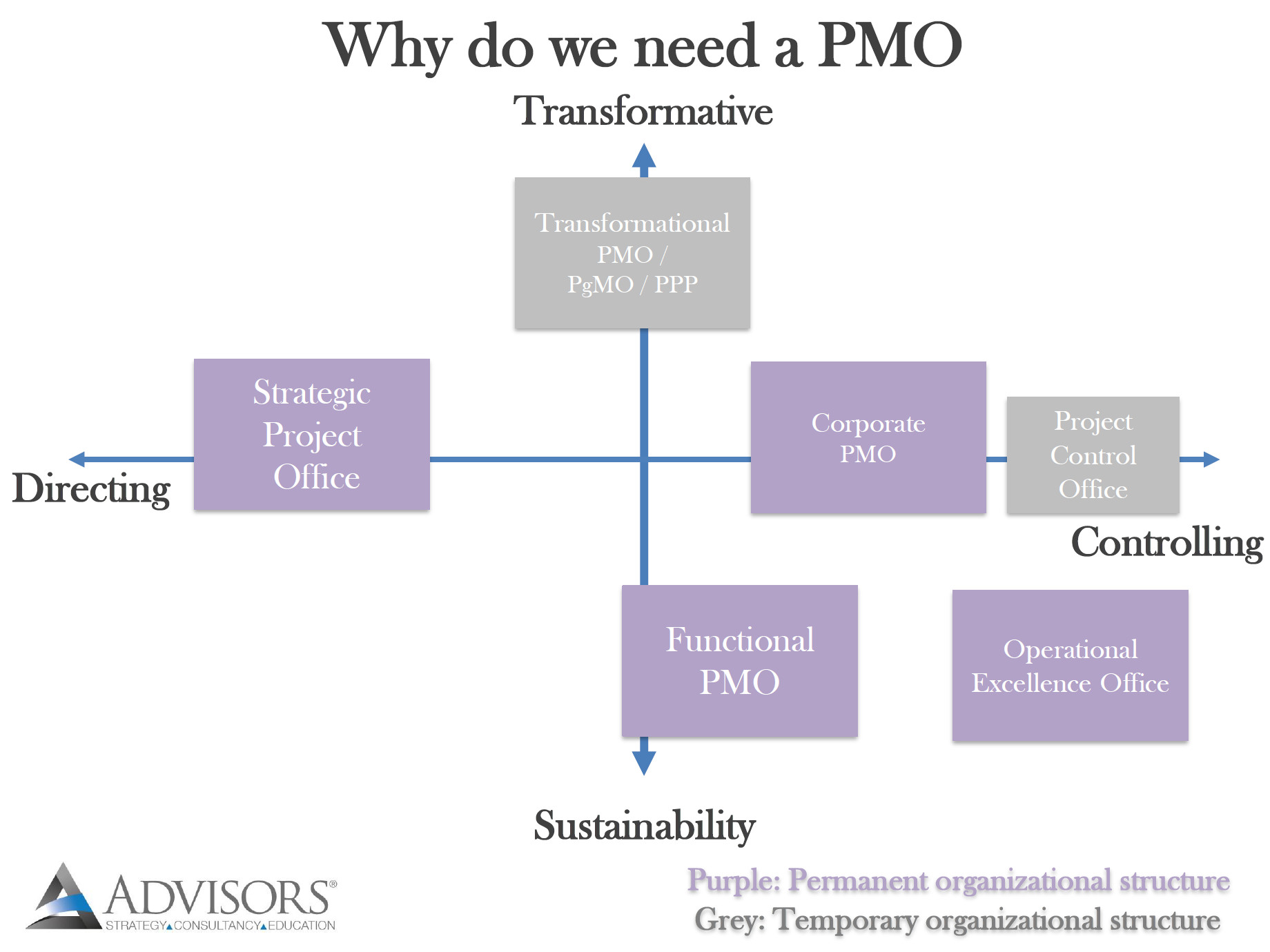 There are two other dimensions, other than organization type that help define the PMO: Directing versus Controlling. Strategy enabling focuses on portfolio management, selection of projects and initiatives and checking their health status, all attributed to Directing. Controlling is about getting things done. It takes two Tango, and these two functionalities are required for our organizations to grow.
Portfolio is about doing the right things, and projects are about doing things right
The third dimension is Transformation versus Sustainability. Our countries, governments, markets, businesses and lives are continuously changing, hence embracing the change and trying to search for untapped opportunities is a far better approach than fighting the inevitable. Nevertheless, we do not want to change everything, or from a different perspective, once we achieve our change goals, we wish to preserve them, hence sustainability is required to maintain good business practices and business results.
Often, large organizations might need to have more than one PMO, as there are different roles, with different authorities, governance, roles, stakeholders and objectives, therefore it is not a best practice to have one PMO do everything from strategy to transformation to directing to sustaining to control. Management Frameworks do not work like this, and one person cannot do everything.
Vision Realization Office (VRO)
Lately, some ministries decided to establish a VRO within each ministry or executive agency to realize the countries vision. This is yet another type of PMO, which can be interpreted in one of two ways, based on the assigned role: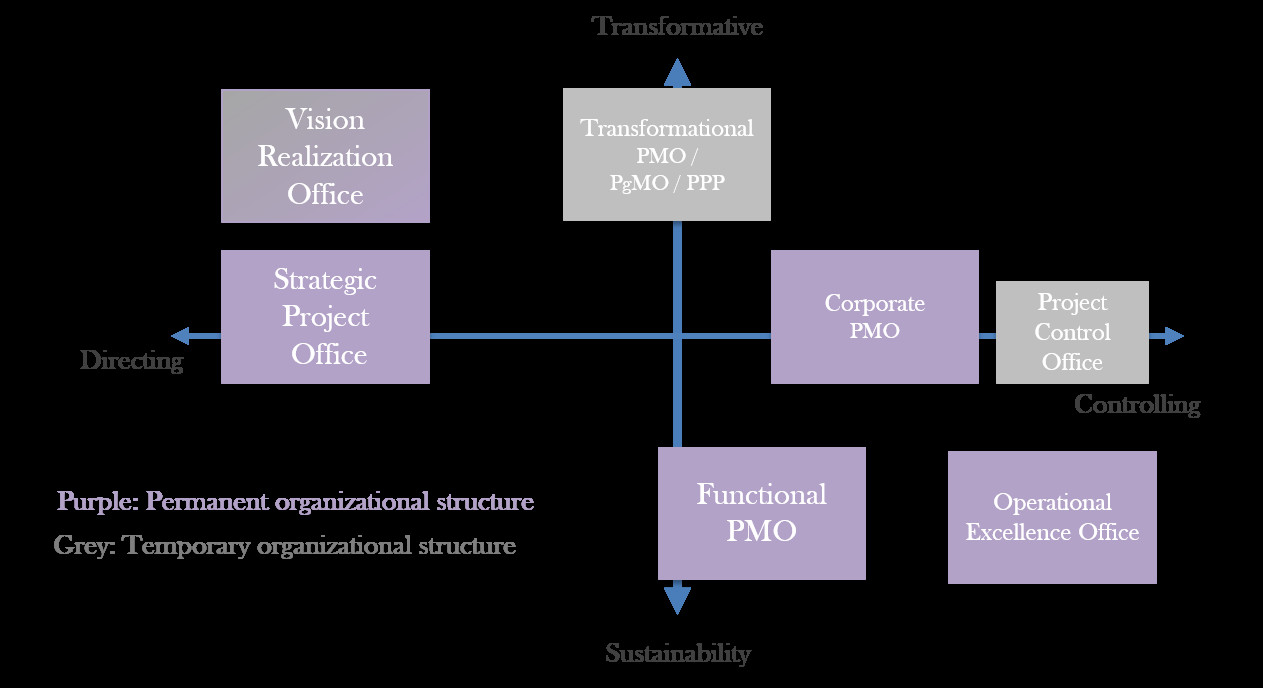 VRO can be considered a Strategic Planning or Management Office, which focuses on Directing, hence selecting the initiatives, projects and programs that will realize the countries vision.
VRO, from a different perspective can be considered an internal Transformation Office, geared on change management within the organization, while owning the execution arm, hence also controlling the proper implementation of projects and programs.
So, which VRO is better? in a holistic view, which PMO is better? This is a wrong question.
The answer is horses for courses. Let our needs mandate the type of PMO, and all this will be clear when we develop a sound PMO Business Case.
Written by Dr. Saadi Adra oon January 22, 2017 - Edited 22 January, 2019
Reach for him directly on consult@advisors.co