News
---
PMO/PMC -The Missing Link (SOE#2)
Dr. Saadi Adra, PfMP, PgMP, PMP, PMI-RMP, PMI-SP, EVP, OPM3
This article offers a perspective for answering an important question: What is the role of a Project Management Office and how does it relate to Project Management Controls for large infrastructure projects?
PMOs have been commonly spread in government organizations and large corporates, in many cases established by the big 4 or 10 international advisory/management consultants, while PMC on the other hand is more common within engineering companies and focus on managing the technicalities of projects.
How to Establish a Successful PMO (please read article before proceeding)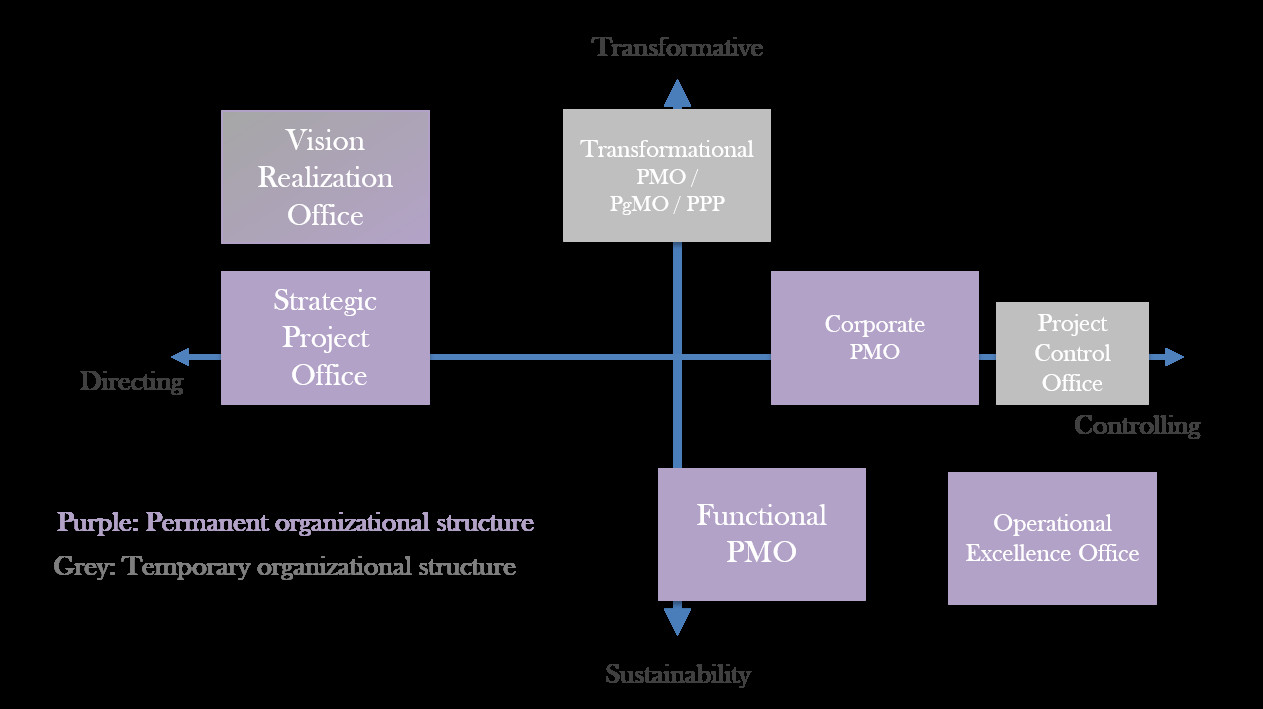 Primarily, PMOs cannot be established using a ONE-SIZE-FITS-ALL approach, as there are multiple types of PMOs, each serving a different purposes. Hence the most important question is why do we need a PMO? To answer this question for a Capital Infrastructure project, we need to define PMC roles and its relationship with the PMO as well.
PMC for Engineering, Construction, Infrastructure and Oil&Gas
Recently, quite a few engineering companies have been requested to establish PMOs for ministries, to help meet some of the requirements of national Visions and Transformational Programs. Typical engineering firms reverted to what they know best and offered their standard PMC services through establishing an organization at the client side that hosts all the various roles they offer, such as planners, cost engineers, document controllers and what not. In order to accommodate client needs, they offered construction managers, superintendents, control engineers and a myriad of typical engineering supervision/technical roles, yet still far from nailing PMO objectives.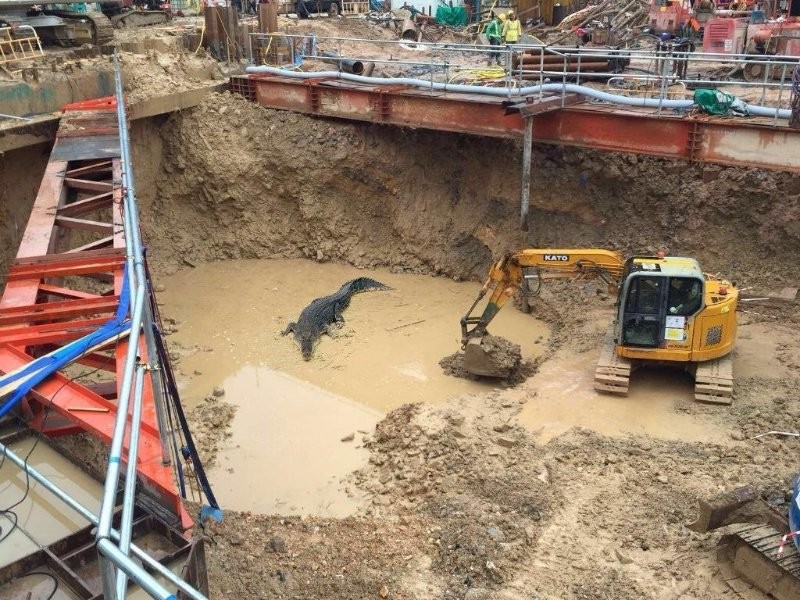 According to the analogy of the previous scheme, PMC has five attributes:
Has a Permanent Organizational Structure - Temporary for individuals projects
Often lays at the Contractor/Consultant side
Offers Controls at the Technical level and Project Execution Metrics
Focuses on Quality, Excellence and Sustainability
Oriented from Bottoms-Up
Hence a PMC business unit with an engineering firm is more like the Operational Excellence Office (Reference to types of PMO earlier), in contrast with a Vision Realization Office, Transformational PMO, or even a Corporate PMO. After all, a PMC is one type of PMO, but is on the extreme technical side, where the language spoken is very far from executive summaries, dashboards and KPIs relating to strategy enabling and realization.
PMO for Government, Owners, Vision/Transformation Bodies, Investors, BODs, PPP
Similarly, some management-advisory firms established PMOs, focusing on Vision, strategies, KPIs, Transformation, Direction, Privatization, Investment and Localization, and then in some cases, these PMOs were requested to Walk-the-Talk and actually connect with the field practice controls and fetch some real performance data. The lack of engineering-technical capabilities - on capital infrastructure projects - formulated an obstacle from enabling them to reach out; it is just a different world! On the other hand, a Transformational PMO is exactly the contrast of a PMC, with the following:
Has an extended Temporary Organizational Structure - until Transformation goals are established, but might turn into Permanent for cascaded Transformations within a long Vision
Always lays at the Owner/Government side
Offers Directions, Funding, Portfolio Selection and Governance
Focuses on Strategy, Transformation, Goals and KPIs
Oriented from Top-down
When PMCs attempt to play PMO roles they know little about, they fail; and vice-versa!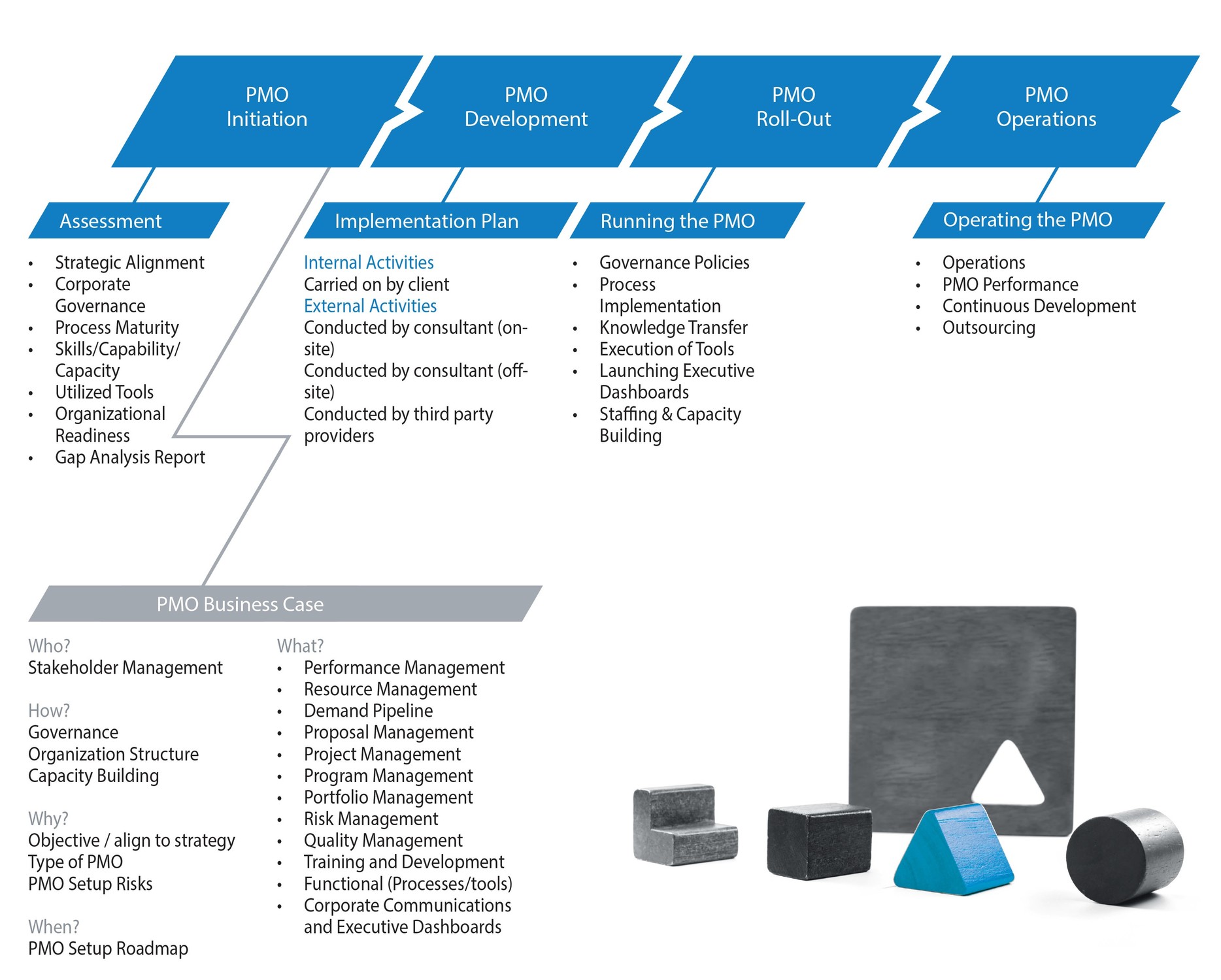 All PMOs should be aligned to specific strategic organizational objectives, and should not be established without proper initiation process. PMO initiation can be facilitated by external consultants, but can only be owned by the top authority of the organization, especially if the purpose is to realize the organizational or national vision. Initiation is often started by conducting a thorough assessment, resulting in a Gap Analysis report. Following the PMO Business Case is developed, answering all types of questions, and includes components such as: PMO Roadmap, Governance & Executive Sponsorship, Organizational Collaboration Approach, Capacity Building, Knowledge Management and other vital ingredients. Since change is inevitable, and PMOs are required to help implement change, nowadays PMO cannot afford but to be quite Agile in nature.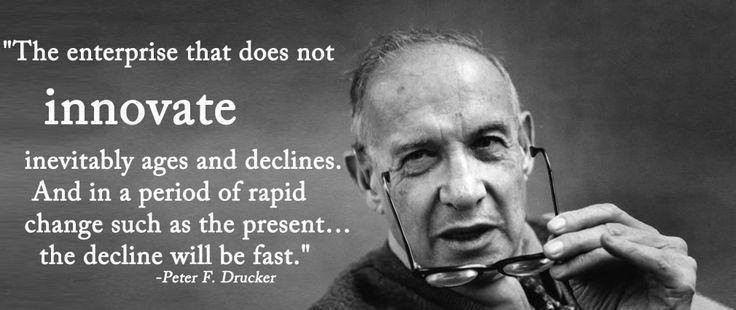 Capital Infrastructure Projects are quite demanding, and they mandate owner/government/investor solicit services from PMOs and PMCs simultaneously, which pops out the question, how can this be done properly?
During a recent consulting activity conducted to provide a concept proposition, I lead a team of advsiors and we capitalized on our past ten years experience in the field, knowledge and innovation to integrate both functions of PMO and PMC.
The proposition is based on ten PMO-PMC success factors:
Governance: Cascaded multiple levels of delegation and assignment of tasks from strategic to tactical to operational to technical, in addition to utilization of the Process Governance Matrix - an Advisors proprietary solution for enabling The Integrated Life Cycle Management Framework, which is based on a field research using Classical Grounded Theory and Case Studies from the Oil & Gas and Mega Program Management.
Executive Sponsorship: All successful PMOs serve top management and offer visibility through KPIs and dashboards in multiple formats to various stakeholders. While the top management mandate and provide the projects and their funding, they request reports and live updates from the field, especially for mission critical and highly publicized investments and initiatives.
Collaboration - One Team: One major aspect of success for an award winning PMO is the collaboration between PMO, PMC and technical staff, where they all operate as one team. PMO serves the client externally and serves all the technical teams internally, while PMC and technical teams operate with Contractor, Supervision Consultant and third party vendors. Leadership and team management comes in the very early stages.
Sustainability: This is twofold: Ascribing to benefits realization and sustainability forall project deliverables through including the aspects of operations and localization for each capital project from the idealization and concept. The second aspect is offering a medium-to-long term replacement of foreign resources by local resources, contingent they receive proper training and experience to carry on their own properly. This is complex and requires an independent article later on.
Excellence: Including Quality Assurance functions as one of the anchors and pairing their outputs, primarily not for NCRs, but rather for enhancing the process and always fixing the knowledge and skills gap. Excellence shall not be achieved with out proper measurements, hence the PMO shall conduct a self-audit and report their own efficiency, always improving and always changing in an agile manner.
Interfaces - PMO within a PMO: For managing multiple mega programs and projects, sub-structures are essential, where each project has its normal staff in the field, and a representative PMC unit within the PMO. All project PMCs are lead and coordinated through a centralized PMC for Project Execution Metrics. Technical support flows from outside the PMO, from remote offices laoded with rather expensive and highly experienced engineers who will provide valuable knowledge in a rather surgical manner, which keeps costs down.
Knowledge Management: Developing PMO functions, processes, PMIS, training during the first 3 to 12 months, then reverting to pure operations is a recipe for failure! The PMO Development Functions have to be permanent and work side-by-side with PMO Operations all the time. This is the only way to guarantee a steady flow of feedback from the field for enhancing processes through success and failure.
Capacity Building: Local Content and localization has put great emphasis on passing the knowledge and skills to local resources in order to induce sustainability. This is an ultimate goal, but the more urgent is that projects do fail because of lack of proper competencies and skills, hence the PMO has to offer training, mentoring, support and knowledge transfer to all involved stakeholders.
Process Development before Automation: In many real incidents, clients hire a software implementer to setup and customize an application, and call it a PMO. Only when all the previous success factors are met, and processes are developed to suit and realize them, automation is introduced. A better approach is understand the problem, agree on the solution approach, then use all that to develop a selection criteria for PMIS software selection. Often, more than one application is required, therefore software integration comes on quite handy.
Miscellaneous/Cultural Factors: Setting up a PMO is highly dependent on business and organizational culture, type of industry, economic factors, strategies, availability of needed competencies, readiness for change, adherence to realistic SMART targets and many more.
Frankly, I thought a lot about sharing this structure and design openly; why offer for free, when our profession is to deliver Innovative PMO Consulting Services?
Then I reverted to my old firm belief and passion for knowledge sharing, and how each time we share knowledge, we get back even more. After all, this specific model has been developed for a specific purpose; while it can be easily altered to accommodate many types of projects and industries, we are the source, and this is only the tip of the iceberg, so enjoy - but do not forget to always keep the reference for ADVISORS!
Proposed PMO-PMC Organization Structure to accommodate the ten PMO-PMC Success Factors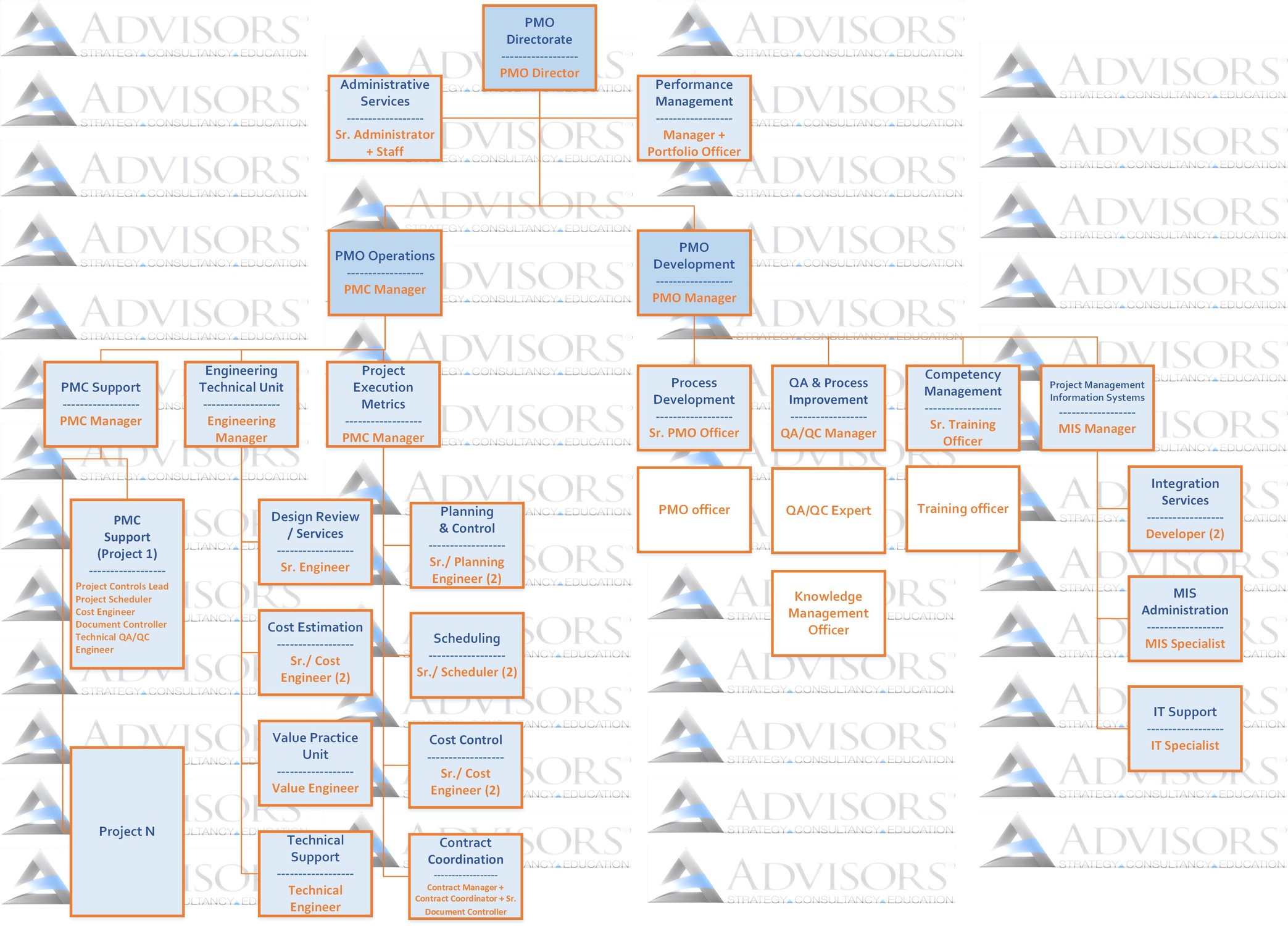 Proposed PMO-PMC Governance Functions and Interfaces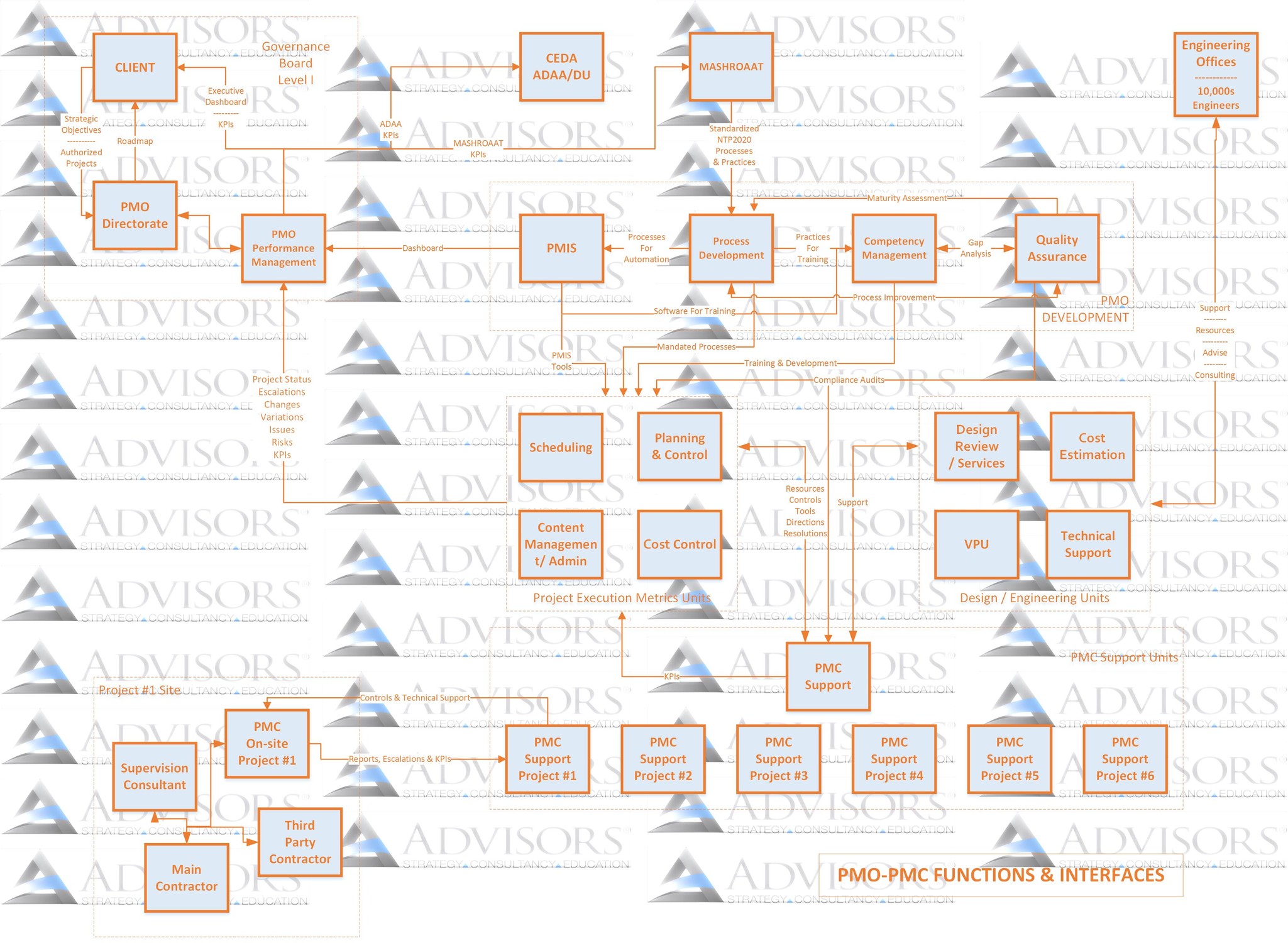 The above 2 of 7 charts require further elaboration to explain how the success factors for PMO-PMC Integration are manifested, and customized to fit multiple scenarios;
Written by Dr. Saadi on 08 December, 2017 - Edited 08 January, 2019
Reach for him directly on consult@advisors.co